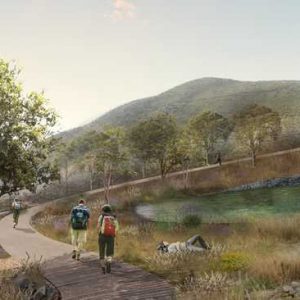 PANESTUDIO/SERVIU Coquimbo
Cerro Grande Urban Park, Stage I (88 Hectares)
PANESTUDIO/ SERVIU Coquimbo
Cerro Grande Urban Park, Stage I (88 Hectares)
In October 2017, the customer Panestudio, together with Serviu de Coquimbo, contacted us with a great challenge: To generate a water supply project for the entire Cerro Grande Urban Park and the administrative facilities located in it, considering water for irrigation, water treatment, and water for human consumption.

The park is located on the outskirts of La Serena, Region IV of Chile, at 1,300 meters above sea level, and outside the sanitary concession area; thus, the main obstacle was to carry the water the most efficient way possible.

Therefore, the Mankuk team began to design the possible systems that could be used for water supply, finally determining that the best option was to use of water from a nearby canal, to reach an inlet pond, and then go through a treatment plant for its purification and subsequent storage.

In addition, the Mankuk team included a wet network within the project to ensure the fight against eventual fires, and a pond for the accumulation of raw water to supply an artificial lagoon, as well as other irrigation processes which help to ensure the watering of the park plants for at least three years from its opening.

Last but not least, we added a sewage system where we implement an evacuation network towards a modular plant, which allows the subsequent infiltration of the resource once it is treated.

The most difficult thing was to obtain the corresponding authorizations from the Canal Users Association, but thanks to the management of the Mankuk team, their experience in water supply issues and the close collaboration with our Internal Legal Area, we were able to have the sanitary approvals for developing the project.

The project is currently in the bidding stage for its construction.